Here we go again. Another month, another look at American chess magazines from 50 and 25 years ago. Last month, in February 1972 & 1997 'On the Cover' (February 2022), we saw American chess players. This month we see American chess institutions.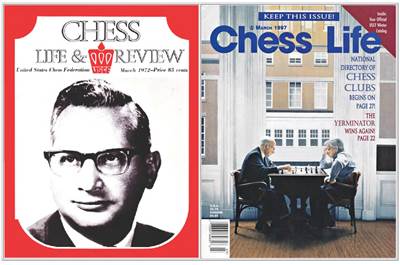 Left: '?'
Right: 'Keep This Issue! • National Directory of Chess Clubs • The Yerminator Wins Again!'
Chess Life & Review (50 Years Ago)
Carl Pilnick, winner of the 7th American Open.
The lead story was 'Seventh Annual American Open', signed 'Carl L. Budd, President Santa Monica Bay Chess Club'. He opened his report saying,
From a record 306 entries in the Seventh Annual American Open Tournament, five players tied for first place with scores of 7-1. Carl Pilnick, a strong master from Los Angeles was awarded the championship trophy in a very close tie-breaking decision. Larry Evans was second and Walter Browne third in this most difficult tie-break. Junior master Ross Stoutenborough and David Strauss, an unrated player recently from England were the other two successful participants.
Was there any news about the forthcoming Spassky - Fischer match? (My convention is to list the reigning titleholder first, which can be reversed after the match is played and the winner is known. It helps maintain objectivity.) Last seen in the 'On the Cover' post for December 1971 & 1996 (December 2021), the March 1972 issue of CL&R had a box titled 'Site for Fischer - Spassky' in its report on the American Open:-
Just as this issue was going to press, FIDE President Max Euwe announced in Amsterdam his decision that the World Championship Match between current title-holder Boris Spassky of the USSR and his American challenger Bobby Fischer will be held in Belgrade and Reykjavik. According to Euwe, Belgrade, Yugoslavia, which was Fischer's first choice, will host the first 12 games of the 24-game match, and Reykjavik, Iceland, Spassky's first choice, will host the second 12 games. Euwe also announced that the match must begin not later than June 25, 1972.
We all know how that worked out, don't we? Maybe not -- why was Belgrade dropped?
Chess Life (25 Years Ago)
Max Ferguson designed our cover this month. A freelancing artist, Max chose the "Capa" table at the Marshall Chess Club in New York City as the focal point of his work. The table was donated by Louis Wolf, a teammate of Capablanca when both were at Columbia University. It was used by Bobby Fischer in his famous "teletyped" participation in the 1965 Capablanca Memorial in Havana.

If you travel, you'll want to keep this issue. Never again will you be "chessless in Seattle" or anywhere else.
Before we get excited enough about that second paragraph to point out that 'anywhere else' means the good old USA, let's remember that the title was '*National* Directory of Chess Clubs'. The four pages of small print listed around 500 clubs. My old Friday night haunt from the mid-1970s, the Hartford Chess Club, was missing from the list of 22 Connecticut clubs.
For two photos of Fischer and the '"Capa" table', see September 1965 'On the Cover' (September 2015). The March 1997 cover of CL is one of my all-time favorite CL covers.
As for the cover mention of 'Yerminator', the nickname applied to GM Alex Yermolinsky. He won the 1996 American Open, the 32nd in the series.
***
Later: Re 'Why was Belgrade dropped?', see Frank Brady's 'Bobby Fischer: Profile of a Prodigy' (books.google.com); p.210 confirms the CL&R account. This was just one paragraph in a 10-page narrative about the choice of match venue.