Last month's edition of Top eBay Chess Items by Price (March 2010), was titled, 'Does Not Ship to Belgium' (March 2022). The title had to do with the Russian attack on Ukraine, which happened near the end of February. I wondered,
Is there any connection between my location (Belgium) and the seller's location (Russia)? Indeed there is. [...] When will eBay stop listings from sellers in Russia?
The answer to that last question came during the week after the post: San Jose-Based EBay Suspends Transactions to Russian Addresses (nbcbayarea.com; 12 March 2022).
[eBay:] "We stand with Ukraine and are taking a number of steps to support the Ukrainian people and our sellers in the region" ... In addition, eBay confirmed they've removed all Putin-related products "that are not clearly anti-Putin."
This resulted in a non-trivial reduction -- I calculate 10-20% -- in the number of sold items listed by eBay for March. These are, of course, chess items and Russia is one of the strongest chess playing countries in the world. I don't know if this reduction has anything to do with the low number of interesting items sold in March, but I couldn't find anything visually attractive that I hadn't discussed before.
The item I chose for this post is shown in the image below. It relates to a 'Top eBay Chess Items' post from a year ago, Lasker, Buschke, Euwe, and Keres (April 2021), where Dr. Lasker's non-chess book 'The Community of the Future' ('Price: $2.50' when it was published) played a small but important role. The March 2022 auction was titled, 'RARE VINTAGE EMANUEL LASKER (Chess Champ) COMMUNITY of the FUTURE 1st Ed 1940 HC'. The book sold for somewhat less than $400, 'Best Offer'.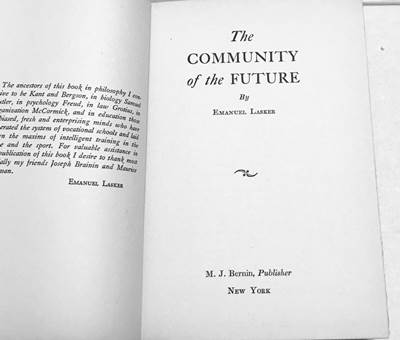 The description said,
In 1940, the great second Chess Champion of the World, Emanuel Lasker (having reigned 1894-1921), summed up his worldly philosophy and advised his readers on what was to be done to struggle toward a better future. Lasker's final book.

A great holiday gift for chess players, philosophers, history aficionados, public policy researchers.

Written in 1940 as WWII is ravaging Europe (while the USA bides its time) this prescriptive book of 295 pages addresses education, employment and the exodus of Jews (those so fortunate) from Europe. To Alaska, suggests Lasker (see a fictional treatment of the Alaska plan in Michael Chabon's Yiddish Policemen's Union, in which a character calls himself Emanuel Lasker).

For Lasker's 60th birthday, Albert Einstein wrote: "Emanuel Lasker is one of the strongest minds I ever met in my life. A Renaissance man, gifted with an untamable urge for liberty; averse to any social bonds…. As a genuine individualist and self-willed soul, he loves deduction; and inductive research leaves him cold…. I love his writings, irrespective of their content of truth, as the fruits of a great original and free mind..." (quote from "Albert Einstein and Chess," posted online by Bill Wall. Also see Hannak's biography of Lasker).

This copy has some chips on spine and back and is marred on cover boards, but not excessively (see photos). The pages have no tears and the binding is fully intact. Deckle-edged pages.
There was another book sold during the month, a bound magazine annual, that related to a previous post on this blog. I'll try to add it ASAP.