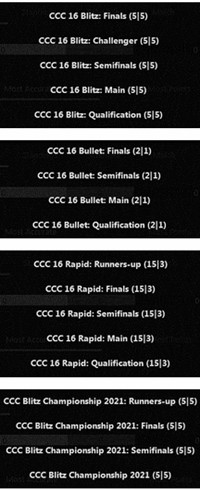 Last month, in TCEC S22 DivP, CCC17 Rapid : Both Underway (March 2022), I made a mistake. Although I was trying to prepare an overview of the first CCC season that took place in 2021 under new management, I overlooked one of the main events.
The chart I prepared for the post was missing the 'CCC16 Bullet' event. The chart showed the most recent event at the top ('CCC16 Blitz') and the oldest event at the bottom ('CCC Blitz Championship 2021'), so 'CCC16 Bullet' should have been sandwiched between 'CCC16 Blitz' and 'CCC16 Rapid'.
The correct order of all four events is shown in the new chart on the left. Since the purpose of the chart was to show the evolution of the different stages (qualification, main, semifinals, ...) from one event to the next, it was wrong to leave out one of them. The correct order -- top to bottom -- of the four events is:-
CCC16 Blitz
CCC16 Bullet
CCC16 Rapid
CCC Blitz Championship 2021
The links to four corresponding posts on this blog are documented in the post with the original, erroneous chart. When the current season (CCC17) finishes, I can prepare a similar chart if necessary.
I decided not to change the chart in the original post, because this would likely have led to discrepancies in the text. Apologies for the error.