For this month's Flickr favorite, I could easily have done another post on the Russia - Ukraine war, like last month's Black and White, Good and Evil (March 2022). Instead, I'll keep the war theme, but go back a century and a half.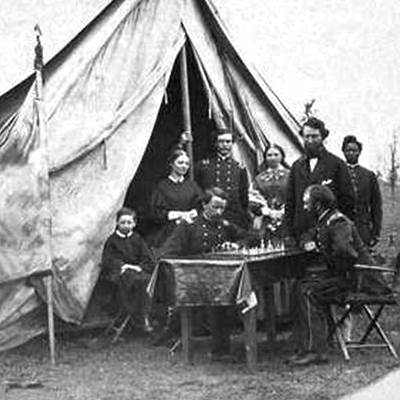 Robert O. Tyler playing chess © Flickr user CW Van Deusen under Creative Commons.
The description explained,
From Elizabeth L. C. Dixon's collection of Civil War photos. Original is in the Dixon-Welling family collection at the Connecticut Historical Society.
For more about General Tyler, see Wikipedia's page Robert O. Tyler. It starts,
Robert Ogden Tyler (1831–1874) was an American soldier who served as a general in the Union Army during the American Civil War. He was commander of the Artillery Reserve of the Army of the Potomac at the Battle of Gettysburg in July 1863, where his artillery batteries played an important role in the Union victory.
William Tecumseh Sherman, another general who served during the American Civil War, was the originator of the phrase 'War is hell'. In the 1860s they had newspaper accounts and still photographs of generals playing chess. Today we have smartphone videos of corpses lying in the street. Sherman spoke the truth.