Seeing red? This month's post on U.S. chess magazines from 50 and 25 years ago is the chronological follow-up to last month's March 1972 & 1997 'On the Cover' (March 2022).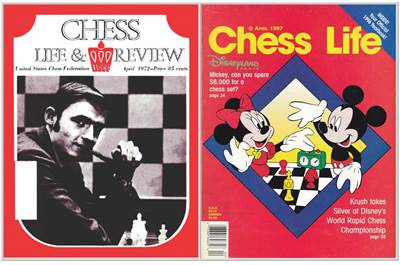 Left: '?'
Right: 'Mickey, can you spare $6,000 for a chess set? • Krush takes silver at Disney's World Rapid Chess Championship'
Chess Life & Review (50 Years Ago)
Andy Soltis, winner at Reggio Emilia, his second international tournament and his first international win. His story appears [inside]. Photo at the Manhattan Chess Club by Burt Hochberg.
The story inside was titled 'Fun and Games at Reggio' by Andy Soltis. It started,
It was an enjoyable return to Reggio Emilia this past holiday season and, for me, a profitable one, With the value of the [Italian] Lire up and the number of grandmasters down, I took a bigger than usual first prize in a festive tournament with 12 players from 10 countries.

The competition was relatively weak -- a Category 3 event under the new FIDE system -- and there were only four titled players: Grandmaster Damjanovic and International Master Masic of Yugoslavia, IM Kovacs of Hungary, and IM Silvino Garcia of Cuba, I had a chance to renew old Students' Olympiad acquaintances with Garcia, Lombard of Switzerland and Skalkotas of Greece. The able, multilingual Enrico Paoli played host and tournament director after dropping out as a player just before it began to make room for Lombard.
The mention of the Students' Olympiad harks back to a previous 'On the Cover': November 1970 & 1995 (November 2020). The CL&R cover there explained, 'Andy Soltis and Ken Rogoff, Members of the World Champion Student Team'.
On the same page as Soltis's Reggio Emilia story was a second story with a headline in a more prominent type than 'Fun and Games'. It blared a question in caps, 'GOING TO SEE FISCHER - SPASSKY?', then answered,
Please do not call or write to USCF about transportation to the match or accommodations at either Yugoslavia or Iceland. We are not involved in arranging transportation. tours, or tickets. Because we are swamped with essential work, we regret that we cannot find time to answer any inquiries on this subject.

Whatever information we have which might be helpful to persons planning to attend the match will be published in this magazine. The following information [about Belgrade] is all we have at present; we hope to give you an Icelandic address in our next issue.
For more about the 1972 match venue, see last month's 'On the Cover', referenced in the first paragraph at the top of this post.
Chess Life (25 Years Ago)
The April 1997 CL lacked an introductory paragraph explaining the choice of cover art and text. It featured three consecutive two page articles relating to the cover, all illustrated with many color photos. The first article was 'Manhattan Chess Set Auction Likely to become Annual Event' by Ed Pfeiffer. It started,
Auctions of collectible chess sets are nothing new for the Phillips gallery. The venerable British firm, which is celebrating its 200th Anniversary this year, has held such sales twice a year in London for the past decade.

On November 6 in Manhattan, Phillips staged its first chess set sale in the U.S. Obviously pleased with the results, auctioneer Claudia Florian, who manages the Phillips salesroom in New York, told the auction audience there would be another one next year. In a post-sale interview Luke Honey, the London-based specialist who arranged the first-time sale, said he expected them to become annual events.

The Phillips sale brought 115 lots to the block including books, games, and other chess-related items: and sets from Britain, Africa, the Orient, Mexico, Europe, and the U.S. Of particular interest were about 100 lots from Laurence I. Wood, a well-known chess set collector from Washington, DC.
The second illustrated article was 'The Art of Chess: A Celebration' (unsigned). Although similar in appearance to the story on the Phillips auction, there was no obvious connection between the two stories other than the art theme.
Between September 16 and October 3 of last year, New York City, home to countless galleries, exhibits, and museums, hosted one more exhibit -- one much closer to the hearts of most chessplayers. "The Art of Chess: a celebration" was held at the Shirley Fiterman Gallery at the Borough of Manhattan Community College, and funded by the Fiterman Family, the BMCC Chess Club and the BMCC Student Government Association.

The organizing force behind this two-week long celebration was this month's Volunteer of the Month, Dean Howard Prince. It was a monumental task, as can easily be ascertained by a partial list of artists: Yoko Ono, Samuel Bak, Elaine B. Rothwell, Stepan Shrem, Claire Becker, James Todd, Marko, Smyth, Despo Magoni, Sofia Polgar, Mitchell Beja, William Lombardy.
The third illustrated article was 'Disney à Paris' by Aviv Friedman. It heralded a future star of U.S. chess.
One of the most colorfully pleasant chess events in the world takes place annually at the Disneyland Paris theme park in France. On December 15, 1996, 164 kids from 42 countries with their coaches, guests, and guardians joined to take part in the second annual "Mickey for Kids" FIDE World championship for children under 14. [...]

The US team: The most successful representative was our "two-weeks-shy-of-13" New Yorker 1rina Krush. With an admirably positive fighting spirit and discipline she scored a fantastic seven points (including a last-round win against the already-sure winner of her section, [Regina] Pokorna) to win the silver medal. With a rating of 2200 USCF she is indeed a name to watch for in the years to come.
Make that 'a big name to watch'! According to Wikipedia's Irina Krush,
Irina Krush was born in Odessa, USSR (now Ukraine). She learned to play chess at age five, emigrating with her parents to Brooklyn that same year (1989). At age 14, Krush won the 1998 U.S. Women's Chess Championship to become the youngest U.S. women's champion ever. She has won the championship on seven other occasions...
For more about the Disney events, see the previous post Karpov at Disney (October 2015), where I mentioned Karpov appearances at Disneyland Paris in 1993, 1994, and 1998. I'm guessing that the 1996 event, where Karpov made an appearance, flew under my radar because he didn't play. To be confirmed...