Two weeks ago the off-week engine post was Stockfish Sparkles (March 2022). This post continues with the Stockfish theme.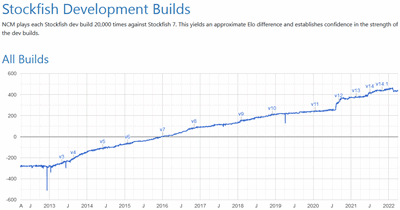 NCM Stockfish Dev Builds
(nextchessmove.com)
The small print above the chart is self-explanatory:-
NCM plays each Stockfish dev build 20,000 times against Stockfish 7. This yields an approximate Elo difference and establishes confidence in the strength of the dev builds.
Another recent off-week engine post was Breaking the 3400 Barrier (February 2022), where I reckoned that Stockfish broke that rating milestone around March 2019. According to the NCM chart above, Stockfish is currently playing 200 Elo above its March 2019 strength.
The Fish blew past the 3500 mark when it switched to NNUE evaluations. That corresponds to a post on this blog from the same period: Stockfish NNUE = +90 Elo (August 2020). I'll come back to this current post if I ever need to do a 'Breaking 3500' post.