A new year means a look at the first FIDE rating list of the year. Let's follow the same cookbook instructions used last year.
1) Identify last year's post: FIDE Rating List - January 2022 (13 January 2022)
2) Identify the source of the FIDE data: FIDE Ratings Download (ratings.fide.com).
STANDARD
TXT format (06 Jan 2023, Sz: 8.98 MB)
3) Compare some basic counts over the past few years.
2023: >405K players; >253K marked inactive
2022: >377K players; >228K marked inactive
2021: >362K players; >174K marked inactive
2020: >354K players; >181K marked inactive
[...]
4) Analyze changes in players per federation. The upper chart shows six new federations (Chad, Comoros Islands, Dominica, Equatorial Guinea, Saint Kitts and Nevis, St. Vincent and the Grenadines). No federation had a name change.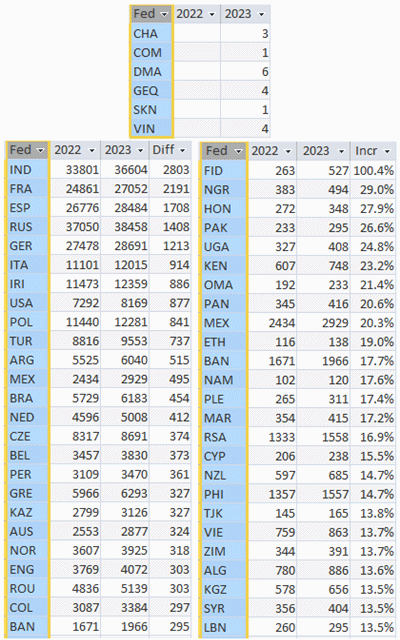 The lower charts show federations with the largest increase in number of players (left) and the largest percentage increase (right; for federations with at least 100 players at the start of 2022). Note that Mexico ('MEX') is on both charts.
5) Identify ideas for a followup post. Last year's post was FIDE Rating List - Women (January 2022). One idea is to look at the doubling of players under the FIDE flag ('FID'), as calculated on the right. This must be a consequence of the war in Ukraine, but should be confirmed. Last year I wrote,
The numbers under point '(3)' above show that the count of inactive players in 2022 increased three times more than the count of active players. Looks like I should revisit the subject of inactive players.
This year the inactive numbers stabilized somewhat, but the count of active players increased only 3K over the count of inactive players. How does this vary over the nearly 200 different federations?