A few weeks ago, in Wayback to Chess.net (December 2022), I ended with a question about the site Chess.net:-
Does 'chess trainer Roman' have anything to do with the 'ROboMAN' mentioned by Karpov? I'll try to find out in a follow-up post.
The following image shows a series of screen captures that track the evolution of the site from 1996 through 2022. The first six images show the landing page and home page at three points in time. The last six images show only the home page, the landing page having disappeared.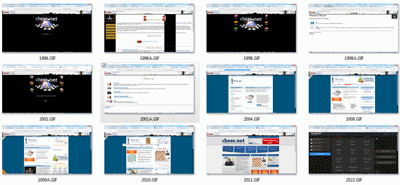 The years associated with those images tell a story.
1996: Top row (two images on left)
Chess.net is a FREE interactive chess server that allows people from around the world to play chess over the Internet. In order to play on chess.net, you can download a free trial offer of our chess.net for Windows 95 software. (coming soon for other platforms) [...]

January 1997 • Sneak peek: new chess.net faculty pages! The chess.net faculty includes some of the world's top Grandmasters. Over the next few weeks we'll be adding feature pages from our faculty, including training tips, stories, photos, puzzles, and more. For a sneak peek of this new feature, see the following:- // Grandmaster Roman Dzindzichashvili • The February column from Chess.net's headmaster is an article on how to use tournament play to energize your chess training and add focus to your studies. // World Champion Anatoly Karpov • This round-up page for all of chess.net's features on Senior Faculty member Anatoly Karpov has links to his exhibition games, comments on Chess.net, and games from the Las Palmas tournament. [...]
1998: Top row (two images on right)
[Six languages] • Welcome to chess.net - The Leader in Internet Chess Technology. Play, chat, and watch chess games with members from around the world. Shop in our online store. We carry the world's best-selling chess videotapes, from World Champion Anatoly Karpov and International Grandmaster Roman Dzindzichashvili, as well as chess software and other merchandise.
2001: Second row (two images on left)
[The same screen captures were shown in 'Wayback to Chess.net'.] 'Only the English version is available at the moment...' [i.e. language support has disappeared.]
2004: Second row (third image)
New Site Design • The NEW Chess.net website has been launched! Tell us what you think.
NB: The current incarnation of what we know as Chess.com [*not* the same site as Chess.net] appeared in 2007. It would eventually upset the business models of many online chess play sites.
2009-02-07: Second row (last image)
Top 3 Great Reasons to Join Chess.net Now: [...] • Special offer for Chess.net users returning after 1 year away // after 60 days away
2009-02-28: Bottom row (first image)
Hi, my name is Roman Dzindzichashvili! I am one of the founders of Chess.net. I started Chess.net back in 1993. As a free service it grew with over 500,000 registered users. You were one of them, and I'd like you back! Chess.net values your membership and in order to get you back, we are offering you a full year of membership for a fraction of the cost. [...]
2010 & 2011: Bottom row (second & third images)
[More of the same]
2022: Bottom row (last image)
'2 player; 1 game in play' [Game over?]
The last image shows the site as it looks today.