In last week's post, Crowther's 'Chess on the Net' (January 2023), I originally intended to write about Mark Crowther's 'Chess on the Web', then realized that I had mixed two different works. The first book in the genre was Sarah Hurst's 'Chess on the Web'. This was followed a few years later by Crowther's 'Chess on the Net', which was followed by Hurst's second edition of 'Chess on the Web'.
The covers of both editions of Hurst's book are shown below. Co-authors listed on the second edition are Richard Palliser and Graham Brown.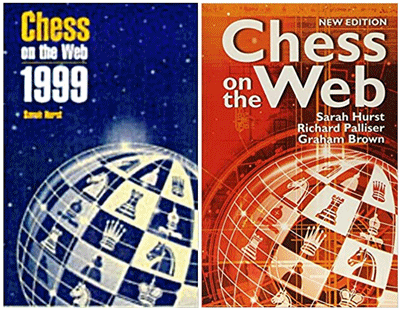 Left: 1999 - ISBN 9780713485776 • Right: 2003 - ISBN 9780713486025
The back cover of the 1999 edition said,
A modern meeting ground for people of all ages and from all walks of life. the internet offers an exciting opportunity to play chess worldwide. Chess on the Web is the definitive guide to internet chess resources from game-play to news, software to history.

Sarah Hurst is the editor of the BCF newsletter Chessmoves. and her previous works include A Shrimp Learned to Whistle, Winning Business Strategies on the Internet (Haymarket) plus a wealth of excellent interviews and articles about chess. A fluent Russian speaker she was also the co-translator of the Moscow 1935 International.
Unfortunately, I don't have at hand a copy of either edition, so I can't go much farther. If I decide to continue this series of posts on early chess web sites, I'll have to get a copy. I've already mentioned Sarah Hurst on this blog in Russian to English Translators (May 2009).