A couple of recent posts on this blog have mentioned the 1990s web site Yourmove.com:-
Both citations quoted the same source:-
Statement by Anatoly Karpov: [...] I would also like to mention that I am a frequent guest lecturer at the superb Internet Chess Academy (www.yourmove.com) created by the talented young GM Gabriel Schwartzman.
The site is partially available via Archive.org, shown in the following screen captures.
https://web.archive.org/web/*/yourmove.com [starts 1998]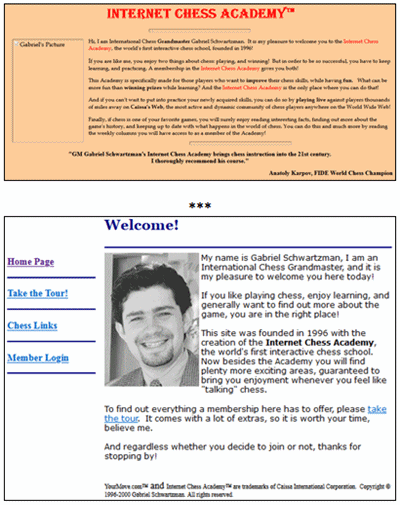 Top: circa 1998 • Bottom: circa 2000
The top capture misses a photo, but includes another endorsement by GM Karpov. It says,
"GM Gabriel Schwartzman's Internet Chess Academy brings chess instruction into the 21st century. I thoroughly recommend his course." - Anatoly Karpov, FIDE World Chess Champion
The bottom capture includes a photo, but misses the endorsement by Karpov. The September 1997 edition of 'SmartChess Online' carried two more endorsements of GM Schwartzman's site:-
What's on the Web? • We'd all like to improve our chess playing but how many of us can really afford to hire a personal coach? Would you like to be trained by a Grandmaster for a fraction of the cost? Then run, don't walk to Gabriel Schwartzman's Internet Chess Academy. With the help of the Internet and through his own innovation, Gabriel has made available to everyone what was once available only to the most fortunate player. Now in its second year, the Internet Chess Academy reaches hundreds of students at every level in over forty countries worldwide via e-mail. Twice a week, Gabriel sends his students a chess puzzle that he has carefully chosen. The challenge: find the best move in the position and send it back to qualify for monthly prizes (from a prize fund worth more than $1,000). [...]
The second endorsement was structured as an interview.
In Conversation With ... • GM Gabriel Schwartzman is a University of Florida student with a perfect grade point average, a successful businessman, a respected chess journalist and commentator, a licensed chess coach, the 1996 U.S. Open Champion and, as if all that isn't enough, he can checkmate you in six languages! At the age of twenty, Gabriel is a seasoned veteran of chess. He began playing at two years old and at seventeen, he was awarded the title of International Grandmaster. As the founder of the highly popular Internet Chess Academy, Gabriel reaches hundreds of students via e-mail in over forty countries world wide. The training method used at the ICA was developed by his father and is the same method that he has used to achieve his goals.

(Q:) At the age of 2, before most children learn to speak, you began to play chess. Tell us about your unique childhood? What sacrifices did you have to make in your early life to achieve your goals?

(A:) Well, I became good at this quite early - at four I had my first official tournament, and at eight I already started traveling the world, as I was being invited to competitions all over Europe and the United States. I must admit that I liked it a lot, because I got to do something very special, which none of my peers had the opportunity to, especially in a communist country [Romania]. But, there was very much work involved, and yes, a lot of sacrifices. I probably didn't get to play as much as other kids, but as Kasparov once replied to a similar question, "It was definitely worth it!" [...]
We've already seen GM Schwartzman several times on this blog. The most notable mention was December 1971 & 1996 'On the Cover' (December 2021), where he appeared on the cover of Chess Life. What became of the Internet Chess Academy? I'll try to answer that question in another post.