On this blog's long-running series Top eBay Chess Items by Price (March 2010), it's inevitable that themes repeat. A few months ago we had 'To Sam, With Thanks' (October 2022), where one of the items was:-
A first edition of 'My 60 Memorable Games' signed by Bobby Fischer to his friend Saemi Rock, a.k.a. Saemundur Palsson, friend and bodyguard in 1972.
For this post we have a pair of related items, shown below. Both had the same title: 'World Chess Championship 1972 - original print signed by Bobby Fischer', and both sold for the same amount: US $2490.00.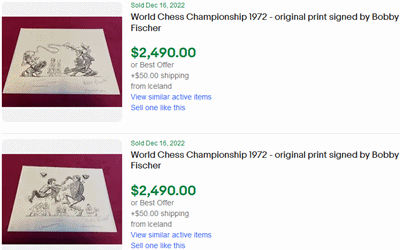 Both items had almost the same description. The item on the top said,
Exceptional memorabilia from the World Chess Championship in Reykjavik, Iceland 1972.  An original printing by Halldor Petursson signed by the cartoonist Halldor Petursson, World Champion Bobby Fischer and World Champion Boris Spassky. This printing is number 18 from a series of cartoons he made for the match. Those same drawings were printed as postcards and were published in the local newspaper in Iceland in 1972.

These printings were printed in limited issue, three sets were signed by these individuals, probably only 4-5. Bobby Fischer got one set, Boris Spassky got the second set and the third set was given to Bobby's friend and bodyguard, Saemi Rock, a.k.a. Saemundur Palsson and this printing if from his collection.

A written COA from Saemi Rock will be posted with item. Size of this original print is 25,5 x 33,5 cm.
The item on the bottom was described as number 16 in the series. That numbering is not consistent with the details shown on my post Halldor Petursson Cartoons (February 2008), where the top item is listed as no.17, and the bottom item as no.15.