Last week in The Evolution of Chess.net (January 2023), I used Archive.org to outline the evolution of the online play site Chess.net. I assume that most chess sites from the late 1990s and early 2000s can be tracked in the same way. How can we identify those sites?
One excellent resource is Mark Crowther's 'Chess on the Net', published in 2002. The following image shows the front and back covers of the book.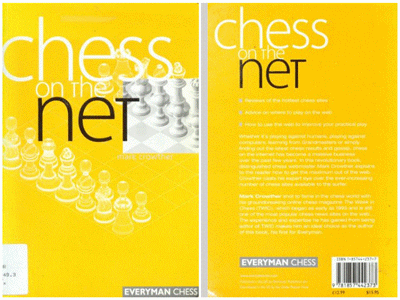 White letters on a yellow background don't allow easy reading, so here's the blurb from the back cover.
• Reviews of the hottest chess sites
• Advice on where to play on the web
• How to use the web to improve your practical play.

Whether it's playing against humans, playing against computers, learning from Grandmasters or simply finding out the latest chess results and gossip, chess on the internet has become a massive business over the past few years. In this revolutionary book, distinguished chess webmaster Mark Crowther explains to the reader how to get the maximum out of the web. Crowther casts his expert eye over the every-increasing number of chess sites available to the surfer.

Mark Crowther shot to fame in the chess world with his groundbreaking online chess magazine The Week in Chess (TWIC), which began as early as 1993 and is still one of the most popular chess news sites on the web. The experience and expertise he has gained from being editor of TWIC makes him an ideal choice as the author of this book, his first for Everyman.
The seven chapters++ are listed below.
Preface
1 - An introduction to the net
2 - Essential knowledge
3 - Playing on the net
4 - News and events
5 - Commercial chess sites
6 - General chess interest
7 - Index of chess sites
Glossary
The seventh chapter, 'Index of chess sites' holds the key to finding early chess sites. I didn't count the number of sites listed on the 21 pages of the chapter, but it must be well over 500. I'll be using the book for future posts in this series.