In a post that was titled Election Special (November 2016), but should have been titled 'Election Special 2016', I wrote,
With the USA voting today, it seems that everywhere I look someone is running an 'election special'. Why shouldn't I?
That was six years ago, when my special was a 'Google Image search on "chess hillary trump"'. I neglected to do similar two years ago, but the search I would have used then still works on today's election day in the USA.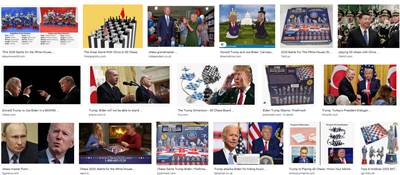 Google Image search on 'chess trump biden'
The composite image is for the second page of search results. Of the 20 images shown on the first page of results, 14 were for the 'Edition 2020 Battle for the White House Chess Set'. The same set is shown above in the upper left corner and accounts for a total of six images on the composite.
The best story behind an image is probably Trump claims 'something is wrong' with Joe Biden and compares himself to a chess grandmaster (independent.co.uk; 'President claims it would be "impossible to have a fair election" if 51 million mail-in ballots are sent out'). It's the story behind the image in the top row, third from the left.
The 74-year-old Mr Trump compared himself to a world-class chess player, contending Mr Biden lacks the mental capacity at 77 to stand up to the world's harshest leaders, like Russian President Vladimir Putin and North Korea's Kim Jong Un.
For another look at chess and the Donald, see A Chess Allegory (November 2016; "'I am ashamed to be the same species as this man', MacEnulty recalled [the woman] saying").