It's the first post of the new year here on Top eBay Chess Items by Price. You might expect that there would be a big choice of interesting items from the Christmas / Hanukkah period, and you would be right.
The item pictured below was titled 'Masterful Russian painting of a man playing chess - Oil on Canvas - Monogrammed', where 'monogrammed' means 'signed'. Initially listed for $1550, it sold for $500 'Best offer accepted'.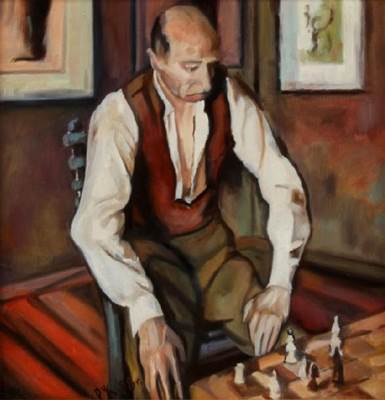 The description added,
Monogrammed in Cyrillic letters 'R' and 'Sche' plus '98'. Masterful painting of a European man playing chess in the corner of a cafe. SLL. Measures 15" by 15 3/4" framed to 20" by 21". In excellent condition; absolutely stunning artwork.
There's not much more I can say about the piece, except to ask what 'SLL' means. The page What does SLL stand for? (thefreedictionary.com), lists 20 possibilities, none of which seems plausible. Maybe 'Stop Look Listen'? 'Stop' and 'Look' I can understand, but 'Listen' is a stretch.