Just like last week's Postcards from 1935 Moscow, the inspiration for this post was the most recent update on Top eBay Chess Items by Price (March 2010). The item pictured below illustrated an auction titled 'Antique Art Book The Game of Life or The Chess-Players 1837 Godey's Publisher', and sold for US $76.00 after two bids.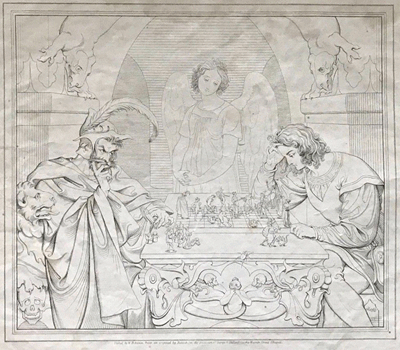 That price is nowhere near the typical range for 'Top Chess Items by Price', and the drawing is in worse condition than similar examples of the same artwork that probably everyone has seen by now. Why choose it for a blog post? The title page for the 'Antique Art Book' said,
The Game of Life
or
The Chess-Players,
A drawing by Moritz Retzsch

Explained, according to hints from himself,
By
C. Borr. Von Miltitz

With additional remarks on the allegory.

Re-published for the Warren Street Chapel
---
Boston
Weeks, Jordan and Co. no.121, Washington Street.
There's the main reason for my interest -- the publisher, 'Weeks, Jordan and Co.', might be a distant relative -- but there's much more to the story than that. After a full page for the drawing, the text of the book continues with the explanation of the drawing by 'C. Borr. Von Miltitz'. It starts,
The name of our gifted artist, distinguished alike with the graver and the pencil, has been, for so many years, honored both at home and abroad, as that of an effective and picturesque Poet; it has so often brought before us whatever is gentlest and loveliest, as well as whatever is terrible and awful, that we have become accustomed, at last, to associate it in our minds, with all that is beautiful and sublime.
The same text is available on the web in different formats and is the introduction to an allegory centered on chess. Later we learn,
It is Satan, the Spirit of Darkness, playing With Man for his Soul. The scene is chosen with a sort of mysterious reference to the whole idea that is to be expressed. The very architecture intimates the presence of that dark Being to whose sphere belongs all that is horrible, confounding and seductive.
Again, there's more to the story than that, but I'll continue with it another time.