After spending the last few weeks reviewing man vs. machine matches in the 1980s and 90s...
...let's return to competitions from the 2010s. When we last visited the TCEC and the CCCC, both events had just finished their most recent seasons and were preparing to embark on new seasons:-
Taking TCEC Season 14 first, the first four divisions have finished and the Premier Division is underway. The following chart summarizes the results of the first four divisions.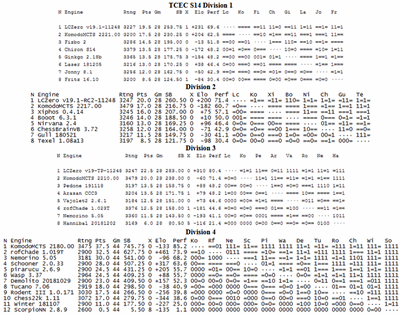 TCEC - Top Chess Engine Championship - Archive
LCZero (aka Leela) and KomodoMCTS finished 1st/2nd in Divisions 1, 2, and 3, sometimes by a wide margin over the other engines. The Premier Division is being played at TCEC - Live, where Stockfish, LCZero, and Komodo are currently placed 1st, 2nd, and 3rd, followed by Houdini and KomodoMCTS in 4th and 5th of the eight engines. If this trend continues, we will see an epic final match between Stockfish, the world's best AB (alpha/beta) engine, and LCZero, the world's best *active* NN (neural network) engine.
For my next post in this series, I'll check on the current status of the CCCC.