In this series on active engine tournaments, the two previous posts saw important competitions nearing key milestones:-
2019-01-07: TCEC S14 Underway • 'The Premier Division is being played at TCEC - Live, where Stockfish, LCZero [aka LC0, aka Leela], and Komodo are currently placed 1st, 2nd, and 3rd, followed by Houdini and KomodoMCTS in 4th and 5th of the eight engines. If this trend continues, we will see an epic final match between Stockfish, the world's best AB (alpha/beta) engine, and LCZero, the world's best *active* NN (neural network) engine.'


2019-01-14: Chess.com CCC3 Underway • 'Started Jan. 6; Expected duration: 14 days • Since that refers to CCC3 stage three, I'll come back to the event in a week. If all goes according to schedule, I should be able to report on the winner.'
Both the TCEC S14 Premier Division and CCC3 stage three (the final stage) have finished play. The results are shown in the following charts.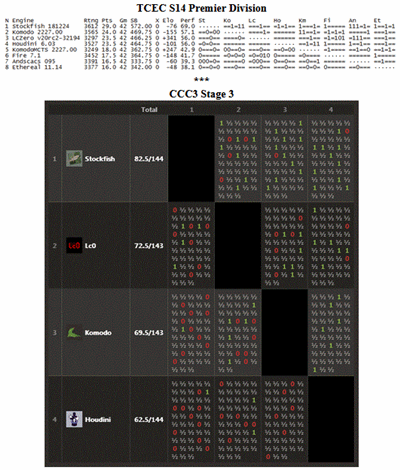 The TCEC 'epic final match' didn't materialize. Komodo finished a half-point ahead of LCZero and Houdini, setting up another superfinal match between Stockfish and Komodo. This pairing echoes TCEC S12 and S13, where Stockfish won both superfinal matches.
The chart for CCC3 S3 is not complete. I started preparing this post while the last game -- LC0 vs. Komodo -- was underway. When it finished in a draw, I immediately captured the results (minus the last game, just in case) and waited for the final update (with the last game). After some time I left my office, but when I came back the results for CCC3 S3 had disappeared and the next event was already underway. I don't know where Chess.com keeps its CCC archives, assuming they even exist.
What's next on the agenda for the TCEC and for the CCC? The TCEC is running a cup tournament that starts today; see TCEC Cup 2 brackets and rules (chessdom.com), for details. The CCC is running a four-day match, 'Stockfish vs. Antifish (Lc0)'. The CCC chat explained,
AntiFish is a neural network trained off of Leela (ID 32425) with a focus on policy that is designed to exploit weaknesses within Stockfish.
After that match, it's anyone's guess what comes next in the CCC.