'This book will help to spark a new era of creativity in chess' • One of the things they probably teach you in journalism school is never to copy a press release verbatim. I've never set foot in a journalism school, but it's a bit of advice I picked up somewhere while churning out thousands of blog posts about chess.
When I received a press release on a subject that everyone is talking about and that just happened to fit in with a series that I'm working on (last seen a week ago in Throwing the Book at AlphaZero), I was tempted to break the rule. Here's what the start of the press release looked like.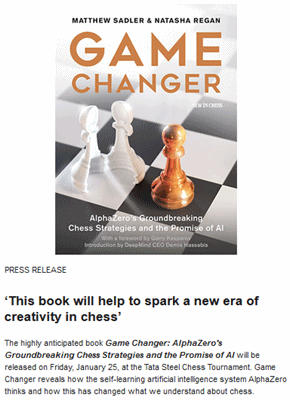 And here's a copy of that first paragraph.
The highly anticipated book Game Changer: AlphaZero's Groundbreaking Chess Strategies and the Promise of AI will be released on Friday, January 25, at the Tata Steel Chess Tournament. Game Changer reveals how the self-learning artificial intelligence system AlphaZero thinks and how this has changed what we understand about chess.
The last paragraph says,
The authors: Matthew Sadler (1974) is a Grandmaster who twice won the British Championship and was awarded an individual Gold Medal at the 1996 Olympiad. He has authored several highly acclaimed books on chess and has been writing the famous 'Sadler on Books' column for New In Chess magazine for many years. Natasha Regan is a Women's International Master from England who achieved a degree in mathematics from Cambridge University.
To order a copy of the book or to peak inside, see Game Changer: AlphaZero's Groundbreaking Chess Strategies and the Promise of AI (newinchess.com). I bet it will be *the* chess bestseller of 2019, and we're not even finished with January.
With those two quoted paragraphs -- the first and the last -- I'll come back in a couple of weeks and see how many other people ignored the first rule of press releases. I'm making another bet that it will be a lot.