Going back 50 and 25 years, this month's covers celebrate two tournaments that were open to the amateur player. For the previous U.S. Amateur cover, 50 years ago, see July 1968 'On the Cover' (July 2018; co-champions Jones and Shahade). Last month's post July 1970 & 1995 'On the Cover' (July 2020), saw the playoff winners of the 1995 'Amateur Team' tournaments.
Is there a connection between the U.S. Amateur tournament and the U.S. Amateur Team tournament? The most recent USCF Yearbook I have is the 2017 edition. It lists U.S. Amateur champions through 1991, followed by East and West champions starting 1992. It also lists annual U.S. Amateur Team champions starting 1971, with the first mention of East/West versions starting 1984. (NB: A summary of the team names would make a great article.)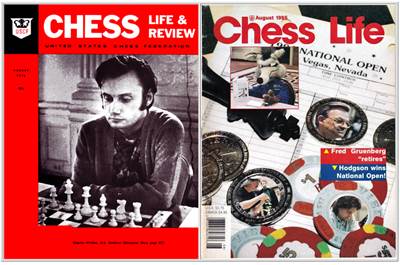 Left: 'Charles Weldon, U.S. Amateur Champion'
Right: 'Fred Gruenberg "retires"; Hodgson wins National Open'
Chess Life & Review (50 Years Ago)
Weldon Sweeps U.S. Amateur • Former USCF Master and Wisconsin champion Charles Weldon, now living in New York City, ran off six straight wins to capture the 20th Annual United States Amateur Championship, played May 29-31 at Chicago's Shoreland Hotel. Held in the Midwest for the first time, the tournament continued as one of the nation's most popular with 195 entrants -- 92 in Group 1, open to all non-Masters, and 103 in Group 2, open to all under 1800 or Unrated.
Chess Life (25 Years Ago)
He Put the FUN Back Into Chess by Jerry Hanken • The National Open is one of the few "must play in" events in American chess. In 1965 the legendary late USCF president and executive director Ed Edmondson established the tournament as part of the then "triple crown" of national events (along with the U.S. Open and the American Open).
After a five paragraph summary of the tournament's history, the report continued,
The 1995 National Open top section was won on tiebreak by British GM Julian Hodgson who was awarded the prestigious Edmondson Cup. Julian was only a deceptive No. 14 on the wallchart, as his FIDE rating of 2585 was used. (He had no published USCF rating.)
The 2017 USCF Yearbook lists the winners of the 1965 National Open, the first in the series, as Robert Byrne and Samuel Reshevsky. That first event was featured in the January 1965 'On the Cover' (January 2015), as well as for the following month.