A few months ago, in April 1970 & 1995 'On the Cover' (April 2020), I quoted from the 1994 USCF Yearbook: 'Anchorage, Alaska, has the only subdivision with a chess theme I have seen or heard of.' This photo isn't quite a subdivision, but it still has a story.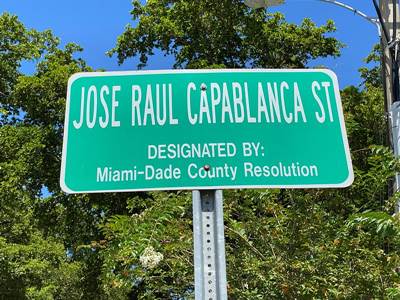 Jose Raul Capablanca Street Sign, West Miami © Flickr user Phillip Pessar under Creative Commons.
The description informed,
He was a Cuban world chess champion.
Since you're reading this post on this blog, you undoubtedly know that already. More interesting is 'Why name a Miami street after Capablanca?' From Miami-Dade Legislative Item, File Number: 062148 (miamidade.gov; July 2006):-
WHEREAS, this Board has conducted a public hearing to consider codesignating and urging the City of West Miami to codesignate SW 16th Street from SW 57th Avenue to SW 62nd Avenue as Jose Raul Capablanca Street; and
WHEREAS, Jose Raul Capablanca was born in Havana, Cuba on November 19, 1888; he was educated in the United States and studied engineering at Columbia University; and
WHEREAS, Jose Raul Capablanca learned chess at the age of 4 by watching his father play and in 1901, at the age of 12, he beat Corzo, the Cuban champion; and
[...]
WHEREAS, this Board would like to honor the memory of Jose Raul Capablanca with this codesignation, since he is a legend in the Cuban community and still revered as the superstar he was in his day; and
[...]
To make the change after ten 'WHEREAS'es, 'The Clerk of the Board is hereby directed to transmit a certified copy of this resolution to the':-
City Commission of West Miami,
Public Works Department,
United States Postal Service,
Traffic Signals and Signs Division of the Public Works Department
Land Development Division of the Public Works Department,
Miami-Dade Police Department, and
Miami-Dade Fire Rescue Department
I bet they don't change street names too often.