The first Sunday of the month means a new post in the long-running series Top eBay Chess Items by Price (March 2010). The priority generally goes to artwork, where -- if you don't count The Spanish Forger Liked Chess (September 2022) -- the previous post was A Wizard or a God? (August 2022).
This month I had three interesting paintings to choose from, so I went with the one I liked most. Titled, 'Henri Dillon (1851-1909) signed French oil on canvas - chess game interior', it sold for GBP 1,850.00 ('Approximately US $2,086.80' according to eBay) after 27 bids from 12 bidders.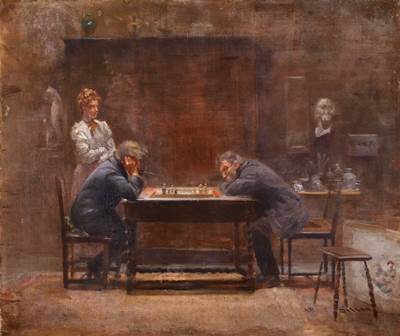 The description said,
Henri Patrice Dillon (1851-1909)

A very beautiful and atmospheric oil by Henri Patrice Dillon the French painter who was born in San Francisco but moved to France to paint. This work shows too men in an intense game of chess in a smoky interior -- one of the men is puffing on a pipe and the smoke has filled the whole room. In the background a woman watches. The walls are adorned with sculptures and paintings.

Title: "The Chess Game" • Signature: Signed lower right • Medium: Oil on original canvas • Size: c. 18 x 22 inches unframed • Condition: Unlined original canvas -- some old repairs and retouchings
As for 'an intense game of chess', the fellow on the right appears to be sleeping. The setting looks like an artist's studio. The start of the artist's French Wikipédia page, Henri Patrice Dillon (fr.wikipedia.org), translates to:-
Henri Patrice Dillon, known as "H. P. Dillon", born November 28, 1850 in San Francisco, and died May 16, 1909 in Paris, was a French painter, illustrator and lithographer of Irish origin, who made a career in the Paris of la Belle Époque.
As for the other two 'interesting paintings' for the month, I tried to find them elsewhere on the web, but failed. This is usually a straightforward process and I'm sure I've seen one of the paintings, by Rodolfo Tarallo, several times before. Has something changed?