Yes, that's what the ad said. Pictured below, it appeared inside the November 1997 issue of Chess Life that I discussed a few days ago in November 1972 & 1997 'On the Cover' (November 2022).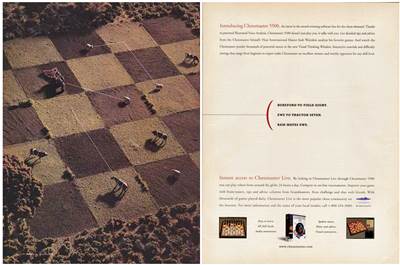 Center of ad: 'Hereford to field eight. • Ewe to tractor seven. • Ram mates ewe.'
The two page ad started,
Introducing Chessmaster 5500, the latest in the award-winning software line for the chess-obsessed. Thanks to patented Illustrated Voice Analysis, Chessmaster 5500 doesn't just play you, it talks with you. Get detailed tips and advice from the Chessmaster himself.

Hear International Master Josh Waitzkin analyze his favorite games. And watch the Chessmaster ponder thousands of potential moves in the new Visual Thinking Window. Interactive tutorials and difficulty settings that range from beginner to expert make Chessmaster an excellent mentor and worthy opponent for any skill level.
What does the Farmville (wikipedia.org) imagery have to do with chess? Beats me. The ad continued,
Instant access to Chessmaster Live. By linking to Chessmaster Live through Chessmaster 5500 you can play others from around the globe 24 hours a day. Compete in on-line tournaments. Improve your game with brain-teasers, tips and advice columns from Grandmasters. Even challenge and chat with friends.

With thousands of games played daily, Chessmaster Live is the most popular chess community on the Internet. For more information and the name of your local retailer, call [phone]. • MINDSCAPE.
The bottom of the ad gave a domain for 'Chessmaster Live': www.chessmaster.com. The Wayback Machine's first capture of the domain is for January 1999, Title: 'Chessmaster' (archive.org). The page started,
The newest version of the world's finest and best loved chess program, Chessmaster 6000 is the complete computerized chess resource for all age groups and skill levels. With exciting new features that explore the human side of the game and complement the richest feature set available, all players will experience computer chess in an entirely new way.
Yesterday's post on my World Chess Championship blog, Smartchess Interviews Karpov (November 2022), also stemmed from the latest 'On the Cover' post and also relied on the Wayback Machine. When did Internet and Web technology start to impact chess literature? I'll look at this in another post.