The short list for this month's featured Flickr photo had two items. One was a little too naughty (not 'For All Ages') and the other was a little too uninspiring. The last time something similar happened I came up with Shallow, Green Chess Photos (December 2021). What to do this time?
Fortunately I had an idea left over from 'The Hand that Guides the [blank]' (October 2021). The Flickr photo behind that post was included in 29 groups, all begging to be explored.
One of the groups had the title 'deviantART Deviants', which is related to a recent, popular post on this blog Fischer Busted (November 2022; inspired by Deviantart.com). Since Flickr lets you search a group by keyword (guess which one I chose), I quickly developed the following composite image.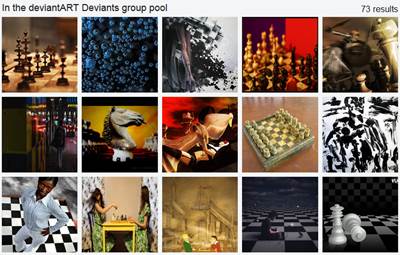 Photo upper left corner: Chess © Flickr user Peter X. Eriksson under Creative Commons. ('All rights reserved ')
Most photos on Flickr are subject to straightforward copyright. Instead of a 'Creative Commons' mention, the photo I linked above goes to Change Your Photo's License in Flickr (flickrhelp.com). The page starts,
When you take a photo, you are the rightful owner of the content. Licensing gives you control of how others can use your photos. Our goal is to help you understand how to change your photo licenses and to understand the difference between each type.
While I was working on this post, I noticed that the photo behind the 'Hand that Guides' was no longer marked 'Creative Commons' (CC). It was now 'All rights reserved'. On top of that, the name of the photographer/artist had changed from 'lolo ramingo' to 'Polette D'Arnu'. That's one of the reasons I record the name and license at the time I write the post -- to identify a change -- although this is the first time I've noticed it happening.
I don't know what my legal liability is in this case. Am I required to honor the current status of the artwork -or- is the artist required to honor the previous CC status? I'll look deeper into this if it ever becomes an issue.