FTX : Where have we heard that acronym before? If you've been following the financial news for the last couple of weeks, then you've undoubtedly seen a headline like Sam Bankman-Fried steps down as FTX CEO as his crypto exchange files for bankruptcy (cnbc.com). The article's summarizing bullets explained,
Sam Bankman-Fried's cryptocurrency exchange FTX has filed for bankruptcy. Alameda Research and approximately 130 additional affiliated companies are part of the voluntary proceedings.
What's that got to do with chess? FTX figured in a couple of posts on this blog around the middle of last year:-
2021-05-30: Crypto Chess • 'FTX Crypto Cup: The world's FIRST bitcoin chess tournament (championschesstour.com); "The FTX Crypto Cup is organised by Play Magnus Group, a global leader in the chess industry, and FTX, a leading cryptocurrency exchange."'
2021-06-29: Speculative Yahoos • 'Goldmoney, Superbet, FTX Crypto. Are those flashes in the chess world -or- names that we will encounter again? '
Below is a screen capture from Neck-and-neck in FTX final as below-par Carlsen ends [Wesley] So's hot streak (chess24.com; FTX Crypto Cup; May 2021). That's Bankman-Fried in the top-right photo, presumably chatting with the Chess24 commentators pictured beneath him.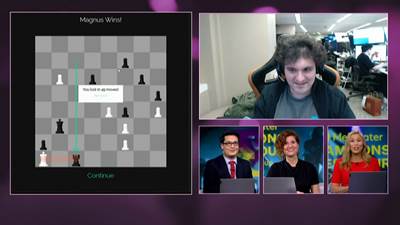 The photo caption said,
FTX CEO Sam Bankman-Fried broke the record for surviving against the 10-year-old app version of Carlsen in the Celebrity Charity Chess Challenge [CCCC].
For more about the (2022?) event, see CCCC - Sam Bankman-Fried - Meltwater Champions Chess Tour 2022 (chess24.com; 'Charity of Choice: FTX Foundation'):-
Sam Bankman-Fried is the founder and CEO of FTX, a cryptocurrency exchange. He also manages $2.5 billion of assets through Alameda Research, a quantitative cryptocurrency trading firm he founded in October 2017.
I doubt we'll be seeing any more linkage between Bankman-Fried/FTX and chess.