No, not really. For last month's question, A Year of Yahoos?, I calculated,
That makes this month's August Yahoos the 11th straight month of Yahoos.
This month should be September Yahoos, but there were no Yahoos for the month, meaning that no chess stories were picked up by mainstream news and featured in Yahoo News for the current month. What to do?
Luckily, I have a convenient fallback -- last seen in July Yahoos (July 2018) -- which is to switch to Google News. Their service returns the headlines for 100 chess stories that they judge to have been significant over the past month. I started to select a couple of Google News stories and ended up with the following list:-
That first link is from St. Louis Public Radio, as are the rest, proving once again that St. Louis has a strong claim to be the USA's chess capital. I first looked for stories to complement a recent post on my chess960 blog, Champions Showdown, St. Louis (chess960frc.blogspot.com), found the two listed above, and then noticed that there were other good stories from the same source. The publication dates and the 'On Chess' titles indicate that the stories are from a weekly series.
***
In the absence of September Yahoos, I created a new category, Showing posts with label Yahoos, and added relevant posts. I expected to find about 20-25 old posts and was surprised to discover double that number. I could have added Flickr posts to the new category -- Flickr is, after all, a service of Yahoo -- but decided against it as this would have meant hundreds more posts, most of them having nothing to do with chess news.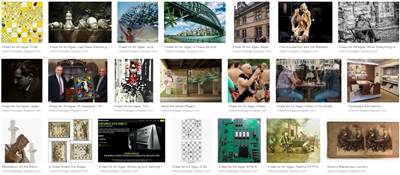 Google image search on 'site:chessforallages.blogspot.com flickr'
The screen capture shows a few of the many images I've used from Flickr. Note that the layout of the Google image search results has changed since the last time I used the same technique, in Chess and Impressionism.
With the 2018 Olympiad currently underway, a FIDE presidential election next week, and a World Championship match next month, I hope we get some serious 'October Yahoos'. If not, there are plenty of alternative mainstream news sources.