Over the past month, I've been spending some time each week to bring my web site in line with current trends -- see Verifying HTTPS and Image Directory Thumbnails. In the 'Verifying' post, I wrote,
One casualty of the migration was Google Adsense. The ads are missing, e.g. on the index page for the World Chess Championship, and the browser warns of mixed content. The code that calls an ad currently uses 'HTTP'. If I want the ads back I'll need to change the code on all pages, but it might be better to replace Adsense with something else in that space.

All things considered, I was happy with the results of the migration to HTTPS. What will Google force me to do next to keep the site operational?
Before fixing the Adsense problem, I decided to catch up on the many Google notices I've received since the beginning of the year, at least a half-dozen significant emails from Google. The company is very good at communicating with its 'publishers' (the Google term for web sites that display ads), but the information is more for commercial sites than for hobbyist sites like mine.
At the beginning of the year I received an email titled 'Introducing the new Search Console [for m-w.com]'. It said,
Search Console is introducing a redesigned product to help you manage your presence on Google Search. The new Search Console was rebuilt from the ground up to provide the tools and insights that site owners and SEOs have been asking for. You can now confirm which of your pages are indexed and get information on how to fix indexing errors. You can also monitor your performance on Google Search with 16-months of data (to enable year-over-year comparisons).
There is far more information available through the Google Search Console than I can possibly use. The 'Performance' page for the old HTTP version of my site confirmed a large drop in search traffic since 2018-08-17.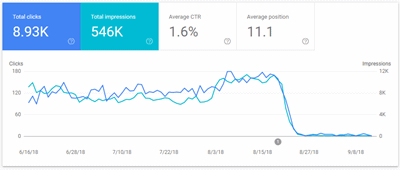 This should have been balanced by a corresponding increase in search traffic for the new HTTPS version, but Google told me 'Oops, you don't have access to this property'. After procuring the access, I received the message 'Processing data, please check again in a few days'. Aye aye, sir! [To be continued]