Now that I've caught up with the Google Search Console and Google Search Coverage, I can continue with the topic introduced in the 'Search Console' post:-
Before fixing the Adsense problem, I decided to catch up on the many Google notices I've received since the beginning of the year, at least a half-dozen significant emails from Google.
It turns out that more than a few of those emails had to do with Adsense, which is Google's service for matching advertisers to web pages. In March 2018, I received an email titled, 'Introducing the new AdSense Auto ads'. It said,
If you're looking to increase your revenue potential and save time, we have a solution for you. We've brought the power of machine learning to AdSense Auto ads - a new way to place ads automatically on your site. Auto ads balance revenue and user experience by delivering the right ad at the right time to your visitors. You can use Auto ads independently or with your existing Google ads. Google scans the pages on your site, finds potential ad placements, and shows new ads when they're likely to perform well and provide a good user experience.
I've never associated ads with 'a good user experience' -- it's generally the exact opposite -- but I'm always interested in whatever Google has to say on a subject. The email pointed to an Adsense resource that said, 'Auto ads use machine learning to make smart ad placement decisions on your behalf.' It started by asking what sort of ads I want and gave me a choice of six:-
In-page ads:
* Text & display ads : A simple way to get banner ads on your page. Google will choose the size, placement, and style of ads you show.
* In-feed ads : Native ads that flow naturally inside a feed (for example, a list of articles or products) offering a great user experience. [*]
* In-article ads : Native ads that fit seamlessly in between the paragraphs of your pages for an enhanced reading experience.
* Matched content : Native ads that combine ads with content recommendations from your site, designed to increase overall user engagement. [*]

Overlay ads:
* Anchor ads : Mobile ads that stick to the edge of the user's screen and are easily dismissible
* Vignette ads : Full-screen mobile ads that appear in between page loads on your site, also easily dismissible.'
The two that I've marked '*' are 'Currently only available for mobile.' For more about the functionality, see Ad code implementation : About Auto ads (support.google.com/adsense). That page carries a couple of illustrations that look like the following.
'The following examples show you how a page with an existing ad unit might look before and after Auto ads have been set up:'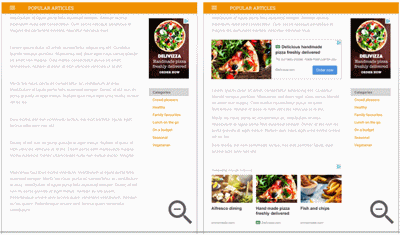 Right, got it. The ads will take up half of the display. I'll pass on that. In July I received another, related email titled, 'Could your ads work better with your content?' It said,
Native ads match the look and feel of your site, flow with your content and unlock new revenue potential.
The email pointed to another Adsense resource that asked, 'What type of ad would you like to create?' Along with good old 'Text & display ads', which is what I've used since starting with Adsense, it offered three choices, along with the following help:-
The right side of the image above shows 'In-article' and 'Matched content' ads. I've used matched content ads for nearly two years and posted about them in Mixed 'Matched Content' (January 2017). Once again, I'll pass on the others.
All of these choices might be too heavy for me, but if I needed ad revenue to provide additional income, I would certainly try them. I'm sure many sites are happy with the possibilities.