After the previous posts, Carlsen's Events 2017-18 and Carlsen's Chess.com Events 2017-18, I prepared the data I had collected into a format similar to Magnus Carlsen's Tournament, Match, and Exhibition Record (2000-; Last updated 2016-09-26). The result, including TWIC references, is shown in the following chart.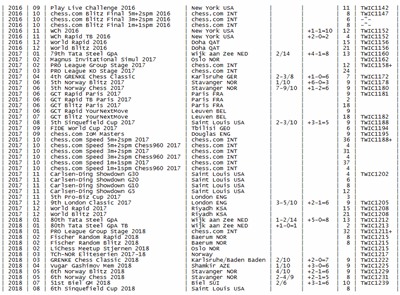 It's not easy to read, but is only an intermediate version and serves to introduce a few discussion points. Since I addressed the same issues two years ago -- see Carlsen's Record 2015-16 (September 2016) and Carlsen's TMER 2015-16 (ditto) -- I only have to follow the precedents set then:-
Multi stage events, e.g. 2017 PRO League -> different events
Different time controls, e.g. 2017 Carlsen - Ding Showdown -> separate scores in notes
Chess960 (Fischer Random) -> mention in notes
Some multi stage events are shown in the table with a small '+' after the TWIC reference. These were all Chess.com events which were played over a period of several months and are covered by multiple TWICs.