In my previous post, GPU Specifications, I closed with:-
The emphasis in the video is on gaming, but the connection with AI is clear enough. I'll look at that in my next post.
This led me to a page, Deep Learning Server - 8x GPUs (lambdalabs.com), about a specific product, called the 'Lambda Blade'. The essence of the product is captured in the following image, the physical machine on the left, its component list on the right.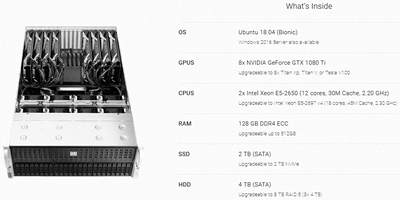 The essence of the 'What's Inside' column is repeated below. The small print in the image lists options for upgrading this basic configuration.
OS: Ubuntu 18.04 (Bionic)
GPUs: 8 x NVIDIA GeForce GTX 1080 Ti
CPUs: 2 x Intel Xeon E5-2650 (12 cores, 30M Cache, 2.20 GHz)
RAM: 128 GB DDR4 ECC
SSD: 2 TB (SATA)
HDD: 4 TB (SATA)
This basic introduction leads to a 'Customize' page, which I'll look at in my next post.