Start with Nine Straight Draws!, add three more draws, and the world begins to wonder...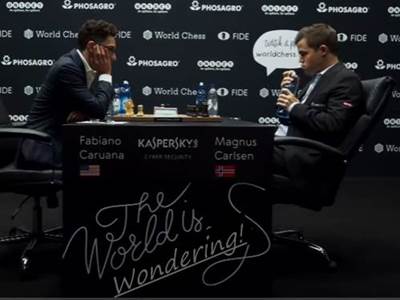 ...'What is wrong with professional chess?' From Mark Crowther's The Week in Chess 1255 (theweekinchess.com; Monday, 26 November 2018):-
The World Chess Championship goes to a final tie-break after the classical part was drawn 6-6. Two years ago Magnus Carlsen took a short draw with white against Sergey Karjakin to force a tie-break he dominated. This time in the final game 12 with black, Carlsen was looking so strong on the board and the clock that he should have been pressing for a win but instead offered a draw on move 31 that Caruana was probably glad to accept.

Carlsen is 91 ratings points stronger than Caruana in rapid chess, it remains to be seen if this translates to an easy win for him on Wednesday. Fabiano Caruana has his chances and may feel he escaped today. Perhaps his rapid rating doesn't reflect his true strength. There's still all to fight for on Wednesday.
From the world chess federation's official site, FIDE WCCM Game 12 review: Relief and Pragmatism (fide.com; 27 November):-
After 31 moves of game 12, Magnus Carlsen offered a draw which was accepted by Fabiano Caruana. All 12 classical games have now been drawn - a result unprecedented in world championship history - and the players head for a tie-break on Wednesday. [...] Carlsen revealed afterwards that his intention before the game started was to hold the draw and head for the tie-breaks, and therefore he was not in the right mind-set to take any risks and play for the win.
Like any sporting or cultural activity -- pick your classification -- the main function of chess is to provide entertainment. Twelve straight draws ... that's not entertainment. What to do? Two suggestions which have been many times in the past are (1) prohibit draw offers (the so-called Sofia rule), and (2) play the match tiebreaks before the regulation games. After nearly two and a half weeks, the chess event of the year will be decided by a short series of rapid and blitz games. Let's hope it doesn't reach the final Armageddon game.