Mid-month, just after the start of the 2018 Carlsen - Caruana match, we had World Championship Yahoos. Now the last move of the tiebreak has been played, the match is over, and just like last month's October Yahoos, FIDE chess is center stage.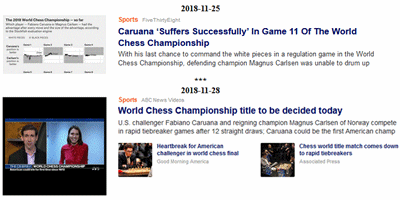 2018-11-24: Caruana 'Suffers Successfully' In Game 11 Of The World Chess Championship (fivethirtyeight.com). I've already mentioned this article on my World Chess Championship blog in 2018 Carlsen - Caruana, the Third Week, so I'll just note its lead paragraph.
With his last chance to command the white pieces in a regulation game in the World Chess Championship, defending champion Magnus Carlsen was unable to drum up any attacking chances. Game 11 -- like the 10 that preceded it -- ended in a draw.
2018-11-28: World Chess Championship title to be decided today (yahoo.com; ABC News Videos), or so says the main headline. The secondary headline from a day later says, Heartbreak for American challenger in world chess final (yahoo.com; Good Morning America), which is the main story.
The match is over, Magnus Carlsen crushed Fabiano Caruana in the tiebreak after not winning a single regulation game, and that is all most people will remember about this strange match. Congratulations to GM Carlsen on his fourth consecutive victory in a World Championship match!