In Catching Up with Engine Competitions (October 2018), I took a checkpoint on the progress of two major computer chess tournaments. What has happened in the four intervening weeks?
TCEC S13
Stockfish beat Komodo +16-6=78 to win the TCEC Season 13 Superfinal. Only one opening resulted in a win for both engines, an Old Indian (1.d4 d6 2.Nf3 Bg4), played in games 85 and 86. For a report on the superfinal of the previous season, see Stockfish Wins TCEC Season 12 (July 2018).
In the TCEC Cup that was played before the S13 Superfinal started, Stockfish beat Houdini +1-0=7 in the final match of the knockout event. The two engines beat LC0 (Leela) and Komodo in the semifinal matches.
Details for both the Superfinal and the Cup, including PGN game scores and crosstables, are available in the TCEC Archive. The archive also covers TCEC previous seasons.
TCEC S14
What about TCEC Season 14? It starts today: TCEC Season 14 – Let's get ready to !boom (chessdom.com). The announcement began,
Season 14 of the Top Chess Engine Championship, the premier chess software competition, starts this Monday, November 12th, at 16:00 CET. It will involve the strongest chess programs and neural networks in the traditional division system. A total of 36 engines with ELO 3000+ will divided into five divisions and a Superfinal.
The action can be followed on TCEC - Live Computer Chess Broadcast.
CCC / CCCC / CCCCC
Some of those 'C's stand for Chess.com. The others stand for Computer Chess Championship, as in CCC: Computer Chess Championship, which happens to be the main page for the event.
Chess.com hasn't issued any news updates since the links mentioned in my 'Catching Up' post. Stage three, the final stage of the CCCC2 blitz competition, started today. The results of stages one and two must be somewhere, although I couldn't find them. I could work out stage one for myself from the PGN file (NB: Similar format for 'ccc1/stage1', etc.):-
https://newman.chess.com/archive/ccc2/stage1/games.pgn
Four engines have reached the final stage -- Houdini, Komodo, Lc0, and Stockfish (which jumped quickly into the lead) -- the same four that reached the semifinal stage of the TCEC Cup. For an overview of the engines that competed in stage 1, here is a colorful graphic from Chess.com's most recent news item. The little green and yellow trophies show the number of TCEC/CCC(C) competitions won by the top engines.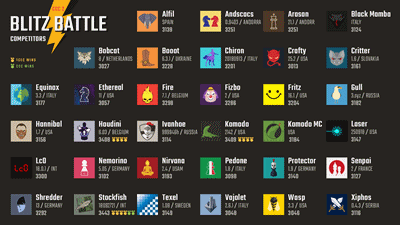 I calculate that the games are played at the rate of about three games per hour, which means 72 games per day. With 600 games total, the event should be over some time next week.