In last month's wrapup of chess news reported by the mainstream press, October Yahoos, I wrote,
Let's hope that 'November Yahoos' will be filled with stories about next month's 2018 Carlsen - Caruana match.
No need to wait until end-November to survey the results. Under headlines like 'Trump's last-minute cancellation draws criticism' and 'Entire teams penalized after wild college football brawl', chess was the top story.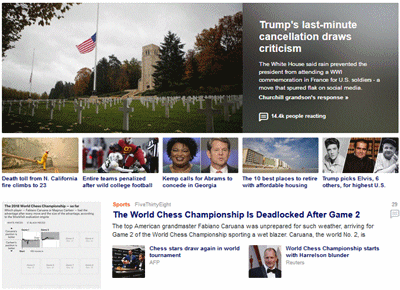 2018-11-10: The World Chess Championship Is Deadlocked After Game 2 (yahoo.com; FiveThirtyEight)
Heavy rain showers, a gentle breeze and 57 degrees [F = 14 degrees C] in London, the BBC reported this morning. The top American grandmaster Fabiano Caruana was unprepared for such weather, arriving for Game 2 of the World Chess Championship sporting a wet blazer. Never mind the sartorial dampness, however. He arrived excellently prepared for the chess.
Along with that main story, the accompanying stories were also about games one and two of the match.
2018-11-10: Chess stars draw again in world tournament (yahoo.com; AFP)
The second round of the 2018 World Chess Championship in London between three-time defending champion Magnus Carlsen and American Fabiano Caruana ended in a draw on Saturday. The two young chess stars, both under 30, have one point each after drawing their opening two games of the tournament
Almost all Yahoo stories have a comments section, and although the comments are often a mindboggling display of ignorance, sometimes they are on target. The story above continued, 'Italian prodigy Carlsen is seeking to cement his reputation as one of history's greatest chess players', and drew snorts of derision like 'Italian, Norwegian they're all the same'.
2018-11-09: World Chess Championship starts with Harrelson blunder (yahoo.com; Reuters)
World Chess Championship officials might rethink the role of ceremonial starter after Hollywood actor Woody Harrelson knocked over a king and moved the wrong pawn in a comical start to the 2018 event in London on Friday
That story gathered more than double the number of comments of the other two stories combined, stuff like:-
'Why rethink? Woody was hired to alter the image a bit, and he did that. Also made the internet news, giving the competition a wider audience, if only briefly!'
'The errors seems a little too convenient. He technically conceded the world championship on the first move. It's just a fun publicity stunt like announcing the wrong Miss Universe.'
'Never knew Woody was a chess man.'
Looks like it's once again time to point out Woody Harrelson vs Garry Kasparov; "Cheers!"; Consultation (1999), Prague CZE (chessgames.com). The game started 1.e4 e5 2.Qh5, the same opening seen in another celebrity game, Boris Becker vs Garry Kasparov; CNN exhibition (2000); New York, NY (ditto).
Back to that first story, it's the second time in a month that I've used FiveThirtyEight.com as a reference. The first was Out with the Old!, about the forced retirement of Kirsan Ilyumzhinov. Maybe I should give that news resource a deeper look.