From the 15 April 1911 issue of Judge Magazine.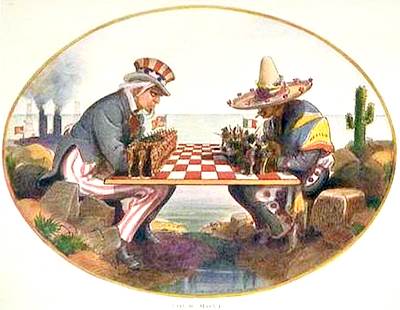 "Your Move"
Signed 'Grant E. Hamilton'
The cartoon shows Uncle Sam playing with an orderly formation of troops against a man labelled 'Mexico' playing with a rabble. Behind Uncle Sam are smokestacks and oil rigs. Behind Mexico is a cactus.
Judge Magazine (wikipedia.org):-
Judge was a weekly satirical magazine published in the United States from 1881 to 1947. It was launched by artists who had seceded from its rival Puck. The founders included cartoonist James Albert Wales, dime novels publisher Frank Tousey and author George H. Jessop.
Mexican Revolution (wikipedia.org):-
The Mexican Revolution, also known as the Mexican Civil War, was a major armed struggle, lasting roughly from 1910 to 1920, that radically transformed Mexican culture and government.
Fast forward 100 years: the tension on the USA - Mexico border remains palpable.