Scans of early chess periodicals in Google Books (last discussed on this blog in Other 'Schachzeitungen') usually carry clues to the originating physical library. Many files trace their origins to the Royal Library (Koninklijke Bibliotheek; KB) in The Hague, more specifically the Chess and draughts collection (kb.nl):-
Collection history: The chess collection is based on the collections of Antonius van der Linde, Meindert Niemeijer and G.L. Gortmans. • Size: The chess and draughts collection consists of ca. 30.000 titles.
Many of the German language files are from the Bayerische Staatsbibliothek Muenchen, better known to English speakers as Bavarian State Library (wikipedia.org):-
The Bavarian State Library (German: Bayerische Staatsbibliothek, abbreviated BSB, called Bibliotheca Regia Monacensis before 1919) in Munich is the central "Landesbibliothek", i.e. the state library of the Free State of Bavaria and one of Europe's most important universal libraries.
A few bookplates from other municipal or university libraries also appear frequently. Two of the most frequent are shown below.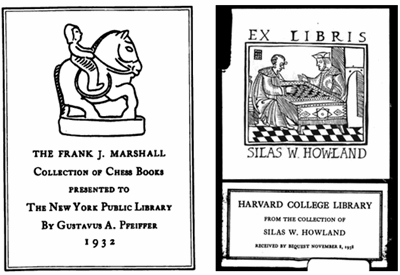 The bookplate on the left is related to the G.A. Pfeiffer chess collection (nypl.org):-
Gustavus Adolphus Pfeiffer (1872-1953) was an American businessman and philanthropist. He was originally from Cedar Falls, Iowa where he was born and educated. His occupational field was pharmaceuticals. Pfeiffer was at the same time a serious collector of chessmen and chess related material. He donated his entire collection of chessmen to the Metropolitan of Art in New York (1952/53). He also donated over a hundred chess books to the N. Y. Public Library which now make up the Frank J. Marshall Collection of Chess books. Among his donations to the N.Y.P.L. were 7 scrap books which contained manuscript material on chess and on famous chessmasters.
Frank J. Marshall's book 'Marshall's Best Games of Chess' was dedicated to Pfeiffer as 'A True and Valued Friend', and there are numerous other tributes to Pfeiffer's support of the Marshall Chess Club in New York. As for the collection of chess sets, Carving Out a Collection (metmuseum.org) says,
The Metropolitan [Museum of Art] owes its reputation as a world-class repository of chess sets to the beneficence of Gustavus Adolphus Pfeiffer.
The bookplate on the right connects Silas W. Howland to the Harvard College library. A page on Chessgames.com, The chess games of Silas W Howland gives his obituary (plus one game, a simul win over Capablanca). Another page on the same site, The chess games of Charles A Gilberg, attributes the Howland / Harvard collection to Gilberg. For more about the subject, see Chess Libraries in America (jstor.org) by Albrecht Buschke, Princeton University Library Chronicle, 1941.