The story starts in the lower right corner. Or maybe it finishes there, since it's checkmate. Or maybe it doesn't have a beginning and an end.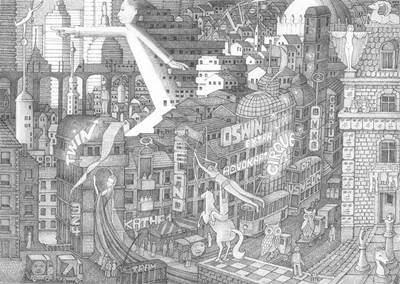 Schachmatt am Schütze-Denkmal © Flickr user Erik Berndt under Creative Commons.
The artist's 'About' page says,
All pictures are hand-drawn, pencil only; but of course I like all kinds of "visual communication", given that they show wit and imagination.
It also says he lives in Frankfurt/Main, Germany. He translates the title as 'Checkmate at the Archer Monument.'
Honoured are the Fabulous Zambranos, the city's most famous son and daughter. The description for the drawing says, Also shown is the newly constructed cableway connecting the shanty towns on the surrounding hills with the rest of the city, ...and the higher technical school for fashion and clothing design "Karl Lagerfeld", at the bottom left. The building also houses 150.000 volumes of his enormous library, now made accessible to the public. • Pencil, 30 x 40 cm.
That must be the Schütze-Denkmal center-bottom, but after that I get lost. I dislike getting lost more than I dislike losing.