Continuing with weekly coverage of two ongoing engine-vs-engine tournaments, a week ago the status was: TCEC S15 Div2 Finishes; CCC7 Nears Final. I can summarize that post with:-
TCEC: S15 [season 15] division 1 is currently underway; the AI/NN engine AllieStein was one of two qualifying from division 2. • CCC: Komodo has just entered the tournament, the first of the four top seeds to do so. [...] It's possible we'll see two AI/NN engines in the [four-player] final.
Let's check the status after another week has passed.
TCEC: I'm slowly realizing that the TCEC preliminary divisions take about a week to play from start to finish. KomodoMCTS and AllieStein finished 1st and 2nd in division 1 to qualify into the premier division with six other engines. The premier division, including the two S14 finalists, Stockfish and Leela (LC0), has just started. The engines finishing in the first two places will qualify for the S15 final (aka superfinal or 'sufi').
CCC: The preliminary event 'Blitz Bonanza' finished with a surprise result. Although Stockfish finished first, it was ahead of three AI/NN engines -- Leelenstein, Leela, and AntiFish -- in that order. Former elite-class engines Houdini and Komodo only finished behind those four. The following crosstable shows how the top engines fared against each other. There were 24 engines in the event.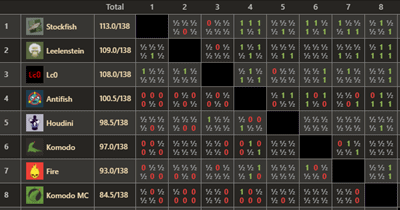 The four first placed engines are currently in a final where Leela leads by a comfortable margin, AntiFish trails by a considerable margin, and the two other engines are fighting for 2nd/3rd places. Will this trend continue until the end?
[For further information from the various stakeholders in the engine-to-engine events, see the tab 'TCEC/CCC Links' at the top of this page.]