Take a 19th-century foreign language chess periodical, extract the text using an OCR service, convert the text to English -- what have you got? I've already tried a small experiment with a poem in 'On Anderssen' (February 2019); how about trying something more important.
Shown below is the start of an article from the August 1861 (vol.16) edition of Schachzeitung, edited by M. Lange, B. Suhle, and P. Hirschfeld. See the recent post Other 'Schachzeitungen' for more about the family of publications.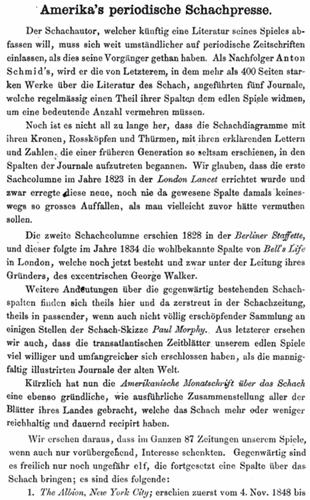 OCR plus translation yielded the following (with a few corrections marked with '[ ]'):-
The chess author, who wants to write in the future a literature of his game, must be much more cumbersome periodicals let in as his predecessors did. As successor Anton Schmid's, he will be the latter, in the more than 400-page works on the literature of chess, quoted five journals, which regularly devote a part of their columns to noble games, have to multiply by a significant number.

Still, it is not too long ago that the chess charts with their crowns, horseheads and themes, with their explanatory letters and [numbers]. that seemed so strange to an earlier generation, into the columns of journals began to appear. We believe that the first sachcolumne was built in 1823 in the London Lancet and although this new, unprecedented column at that time excited by no means so much attention, as one might have previously suspected should.

The second chesscolumn appeared in 1828 in the Berlin Stafette, and this was followed in 1834 by the well-known column of Bell's Life in London, which still exists under the direction of her founder, the eccentric George Walker.

Further hints about the presently existing chess columns can be found scattered here and there in the chess newspaper, partly in a fitting, if not completely exhaustive, collection some parts of chess sketch Paul Morphy [NB: 'Paul Morphy: A Sketch from the Chess World']. From the latter see we too, that the transatlantic time sheets of our noble games much more voluminous and extensive than the widely illustrated journals of the old world.

Recently, the American [Chess Monthly] has an equally thorough, as detailed compilation of all the leaves of their land brought the chess more or less have reciprocated extensively and permanently.

We see that in all, 87 newspapers play our games, if only temporarily, were interested. Present are of course, it was only about eleven, which continued [to bring] a column over the chess; they are the following: [...]
Given the many possibilities for introducing errors...
in the original publication
by the scanning process
by OCR
by the translation
by the person putting everything together (that's me)
...it's surprising that the final result makes any sense at all. But it does make sense and even gives me a few leads for further posts.