Some of what we know about Paul Morphy's heyday, the period from 1857 to 1859, is due to the work of Daniel Willard Fiske. Last year he was the subject of a post on this blog in:-
Fiske returned over the past week in two posts:-
The 'Images' post was based on Fiske's book 'Chess Tales & Chess Miscellanies'. The book starts with a one page biography of Fiske, dated January 1912.
[Readers of "Chess Tales" who are not familiar with the career of the author may be interested in the following biographical note.]

Daniel Willard Fiske was born in Ellisburgh, N.Y., November 11, 1831, and died in Frankfort-on-the-Main, September 17th, 1904. He was educated at Cazenovia Seminary and at Hamilton College, but left the latter institution before graduation to go abroad and study the Scandinavian languages. He passed two years at the University of Upsala, Sweden, and returned to New York in 1852, taking a place in the Astor Library, where he remained until 1859. He was General Secretary of the American Geographical Society, 1859-60.

In 1857 the American Chess Monthly was founded, which he edited in conjunction with Paul Morphy, 1857-60; and compiled the "Book of the First American Chess Congress," held in New York, 1857. He had been connected with the United States Legation, Copenhagen, 1850-51; and became Attaché to the United States Legation, Vienna, 1861-62, under Motley. Later he was connected with the Syracuse Daily Journal, and in 1867 was on the staff of the Hartford Courant.

In 1868 he traveled abroad, visiting Egypt and Palestine, when he received a call to be Professor of North-European languages, and Librarian, at Cornell University. He was an ardent member of the Psi Upsilon Fraternity. Iceland he visited in 1879. His marriage to Miss Jennie McGraw occurred in 1880. In 1883 he resigned his offices at Cornell and took up his permanent residence in Florence, Italy.

Mr. Fiske's miscellaneous writings were numerous and varied, and reprints of the more important will appear later. His valuable book collections, which were presented to the Cornell University Library, related to Dante, to Tetrarch, to Icelandic History and Literature, and to the Rhaeto-Romanic language. Besides the great collections which have enriched Cornell University, that institution has also received from his estate a fund for the uses and purposes of the Library, of more than half a million dollars.
A similar, expanded biography can be found in 'Willard Fiske, Life and Correspondence: A Biographical Study' (1925) by Horatio Stevens White. The book also compresses the path of Fiske's life into a single page, titled 'Chronological Outlines', shown below.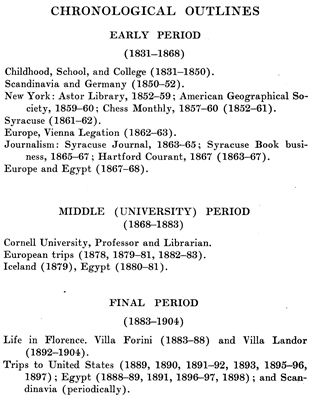 It is curious that Morphy's heyday coincided with the period in Fiske's life where his main interest was chess, 'Chess Monthly, 1857-60 (1852-61)'. I've always had a special interest in Fiske, because he was associated with my alma mater, Cornell University. It is also curious that he lived/worked in Hartford CT, Copenhagen, and Frankfurt, three cities where I've lived and worked. What provoked him to lose interest in chess?