In last week's post, Paul Morphy, Annotator, I mentioned the book 'Chess Tales & Chess Miscellanies' by Daniel Willard Fiske (1912). Fiske died in 1904, and the publication of 'Chess Tales' was the work of its editor, Horatio S. White. My copy of the Google Books scan shows both White's bookplate and his handwritten inscription ('Literary Executor for the Willard Fiske Estate'). The book is a collection of about 30 reprints, mainly from Chess Monthly (see another post from earlier this month, Five Volumes of 'Chess Monthly') plus a few other sources. The book's 'Introduction' explains its genesis.
The chapter titled 'Paul Morphy' contains six pages with images of Morphy. I collected these into a single composite image, shown below.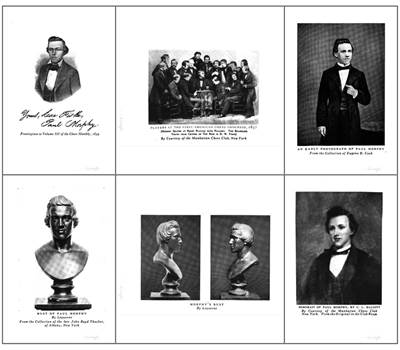 All of the image pages were captioned. Top row, left to right:-
(Signed: 'Yours, dear Fiske, Paul Morphy')
Frontispiece to Volume III of the Chess Monthly, 1859

PLAYERS AT THE FIRST AMERICAN CHESS CONGRESS, 1857
[MORPHY SEATED AT RIGHT PLAYING WITH PAULSEN. THE BEARDLESS
YOUTH NEAR CENTRE OF TOP ROW IS D. W. FISKE]
By Courtesy of the Manhattan Chess Club, New York

AN EARLY PHOTOGRAPH OF PAUL MORPHY
From the Collection of Eugene B. Cook

Bottom row, left to right:-
BUST OF PAUL MORPHY
By Lequesne
From the Collection of the late John Boyd Thacher,
of Albany, New York

MORPHY'S BUST By
Lequesne

PORTRAIT OF PAUL MORPHY, BY C. L. ELLIOTT
By Courtesy of the Manhattan Chess Club
New York. From the Original in the Club Room
All of these images can be found elsewhere. Take, for example, the image in the center of the top row ('PLAYERS AT THE FIRST AMERICAN CHESS CONGRESS'), attributed to Matthew Brady. From 'Paul Morphy: Pride and Sorrow of Chess' by David Lawson (2010, p.77):-
During the time of the Congress, Matthew Brady, the well-known photographer, took several pictures of Morphy, singly and with other members of the Congress, and it was announced in the Chess Monthly of July 1858 that there would be published

"a lithographic Picture embracing Likenesses of about Twenty of the most eminent Chess Players in the United States—the same being an exact Copy of the group as arranged and Photographed by Mr. Brady of New York. In the foreground is represented the figures of Messrs. Morphy and Paulsen in the act of playing their memorable Match, with Judge Meek of Alabama as Arbitrator and the rear is made up of leading Chess Players watching with intense interest the progress of the Game."
The photo to the right of the top row is also attributed to Brady. The bust was mentioned in the 'Paul Morphy, Annotator' post (Fiske: 'the bust of Morphy constitutes the best likeness obtainable -- all those appearing in books are caricatures'). The last image in the bottom row was painted by Charles Loring Elliott (wikipedia.org; 1812–1868). For more images of Morphy, see Visions of Morphy (chess.com; batgirl; March 2016).