When we left last week's post about two ongoing, world class engine-vs-engine competitions, TCEC Cup 3 Nears QF; CCC8 S1 90% Finished, the situation looked something like this:-
TCEC: Currently in the octofinal stage (the round of 16) five of the original 32 engines have already qualified for the quarterfinal, with three octofinal matches remaining to determine the other three quarterfinalists • CCC: Of the original 24 engines, 21 have entered [CCC8] and have run the gauntlet of the engines that started before them. Fizbo is the 22nd engine to start, leaving only Stockfish and Leela still to start.
What's the status a week later?
TCEC: In TCEC Cup 3, Leela beat Stockfish in the final match with a score of +2-1=7, to confirm its victory in TCEC Cup 2. The following chart shows the last four matches that determined 1st through 4th places in the final standings.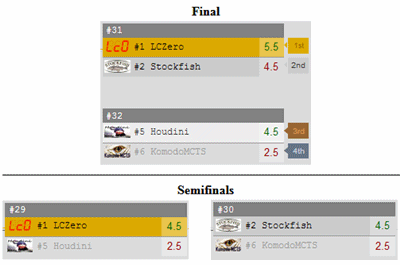 The S15 superfinal started afterwards and the score is currently tied at +1-1=11. For a reminder on how the two engines qualified, see the post from two weeks ago, TCEC S15 Final: SF vs. Leela; CCC8 S1 at 3/4 Mark.
CCC: Looks like last week's title, 'CCC8 S1 90% Finished', was overly optimistic. The first, qualifying stage is still running. Leela was the last engine to start the event and still has four mini-matches left on the schedule. I'll add an update to this post when the final result is known.
With both TCEC S15 and CCC8 in their final stages, it's useful to have an overview of finishes to previous competitions:-
Newcomers to chess engine tournaments might benefit from a basic information page published recently by the organizer of the CCC competitions: Computer Chess Engines: A Quick Guide (chess.com).
[For further information from the various stakeholders in the engine-to-engine events, see the tab 'TCEC/CCC Links' at the top of this page. • Leela = LC0 = LCzero]
***
Later: A few hours after I prepared the main post above, the CCC8 qualifying stage finished in the order -- Stockfish, Leela, Leelenstein, Antifish, Houdini, Komodo -- no tiebreaks required. Since the rules specified, 'Top 4 engines advance to final, only two can be from a single, or shared, code-base', Leelenstein beat Antifish for the second qualifying spot in the Leela family. Also noteworthy is Houdini's narrow half-point placing above Komodo. I'll have more details in next week's post.