When was the last time I featured a book on Top eBay Chess Items by Price (March 2010)? Not counting comic books, it appears to have been Lombardy's MCO (October 2017), over a year and a half ago.
The item pictured below was titled, '1694 HYDE Oriental Games HISTORY OF CHESS +Nard Backgammon HEBREW ARABIC CHINESE', subtitled, 'RARE 1ST EDITION OF "FIRST SCHOLARLY HISTORY OF CHESS"'. It sold for US $1450 after 48 bids from 16 bidders, on a starting price of $9.75.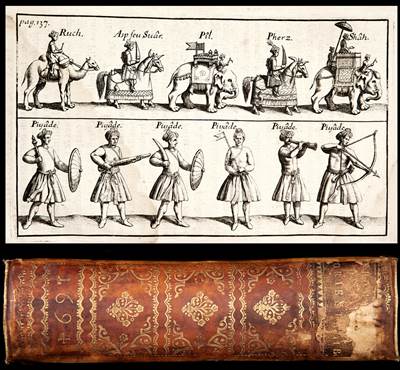 The description started with a text image that I transcribed as
Thomas Hyde

[DE LUDIS ORIENTALIBUS LIBRI DUO]
Mandragorias, seu, Historia shahiludii [...] :
de ludis Orientalium

[WITH]

SHAHILUDIUM TRADITUM
in Tribus Scriptis Hebraicis.

[AND]

HISTORIA NERDILUDII,
Hoc est dicere, trunculorum : cum
quibusdam aliis Arabum,
Persarum, Indorum,
Chinensium
[...]
That Latin text appears to have been taken from portions of the book's title page and a 17th-century version of a preface. The rest of the description might be the longest I have ever seen on eBay that wasn't a copy/paste from Wikipedia. It started,
First Complete Edition of this pioneering and highly esteemed study on the history of chess, as well as nard and other oriental games. Three parts in one (2 volumes, with 1st volume comprising 2 parts). Text in Latin, Hebrew, Greek, Arabic, Persian, English and other languages. Illustrated with several engravings in text and 3 folding engraved plates.
This was followed by a collection of quotes from other sources, of which the most authoritative was from Murray:-
"The closing years of the [17th] century saw the publication by the Oxford University Press of Hyde's Mandragorias, seu Historia shahiludii (1694), the first really scientific contribution to the history of chess. A second volume, with the title Historia Nerdiludii, treated in a similar way of other Oriental games. The author, Thomas Hyde, was one of the first Oriental scholars of his age, and was successively Professor of Hebrew and if Arabic in the [Oxford] University, in addition to filling the position of Bodley's Librarian from 1665 until 1701. He used his vast knowledge of Arabic literature to establish the Indian origin of chess, and, although no chess-player himself, the careful use which he made of his authorities, and the copious extracts which he gives, make his work of great value even at the present time." (Harold Murray, A History of Chess, p.841)
After much more of the same, including a few paragraphs on Thomas Hyde (1636-1702), was a physical description of the book.
Octavo, text block measures 16 cm x 9½ cm. Bound in contemporary (ca. 1700) full vellum dyed brownish-orange over rigid boards; flat spine richly decorated in gilt, and with a gilt-lettered title label. • 3 parts bound in 1 volume. Pagination: [72], 184, [4], 71, [17], 278, [2 blank] pages + 3 folding plates. Collated and COMPLETE (with half-title and final blank present). • Illustrated with 3 folding engraved plates (in the 1st part), and several engravings and woodcuts in text. Printed in roman and italic letter (for Latin), black letter/gothic (for English and German), Greek, Arabic, Hebrew, and other exotic types, some of which (Chinese, Sanskrit, etc) are engraved. • Each of the three parts with its own dated title-page and its own pagination. Includes half-title ("De ludis Orientalibus...") with the imprimatur (dated Sept. 20 1693) on verso. Dedications, dedicatory epistles, and prefaces to the reader to the 1st and 2nd volume, respectively.
It's unusual to see so much effort put into an eBay description. The seller certainly earned his $1450.