If this month's 'On the Cover' looks vaguely familiar, it might be because we've already seen the Chess Life side on this blog in Early U.S. High School Championships (May 2017). I'll come back to that post after I present both covers from 50 years ago.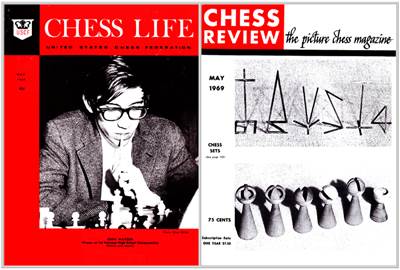 Left: 'John Watson - Winner of the 1st National High School Championship'
Right: 'Chess Sets'
Chess Life
The CL cover promised 'Details next month', so let's skip ahead to the June 1969 Chess Life.
With 370 players from 21 states, D.C., and Puerto Rico, the National High School Championship made a spectacularly successful debut at the McAlpin Hotel in New York April 11-13. Entrants came from as far as Hawaii and all eight USCF regions were represented. The Individual Champion, with a 7 1/2 - 1/2 score, was John Watson, a senior at Brownell-Talbot High School, Omaha, Nebraska; while the team title, determined by combining the scores of each school's four best scorers, went to the "Gompers" team of Chicago, Ill., all of whose members attend Lane Technical High School.
Getting back to that 2017 post on 'Early U.S. High School Championships', I wrote of the five first winners, 'Along with [Larry] Christiansen, John Watson is well known in the current chess scene, primarily as an author.' Indeed, we've seen him several times on this blog in discussions of books. The most extensive writeup was probably Notes on Material Imbalances (January 2013), where I mentioned, '"Secrets Of Modern Chess Strategy" by John Watson (Gambit 1998), a winner of several "Book of the Year" awards'.
Chess Review
Bob Rosenwald says of our cover sets this month: "Enclosed are photos of two different chess sets I recently designed. The top is made of brass; the lower, wood turned on a lathe -- my first serious attempt in some years to design a beautiful and playable set. I feel the bottom one lends itself admirably to a production line -- perhaps in a high quality plastic." This is Bob's fourth cover appearance!
Four Rosenwald cover appearances? I found the third in April 1966 'On the Cover', where the CR blurb said, 'Robert Rosenwald, who seems to specialize in "out" art on the chessboard'. The second was April 1964 'On the Cover', where the CR blurb said, 'The new Rosenwald set (compare with one on March cover last year) [...] Set designed and executed by Robert L. Rosenwald.' Since that 'On the Cover' was only the second in a new series, Rosenwald's work from the March CR 1963 isn't available for a comparison.
CR had a habit of featuring chess pieces on its covers. The previous occurrence was July 1968 'On the Cover where the CR blurb explained that is was from a 'display of chess sets held at the Brooklyn Museum'.