Just like a few months ago in Postcards from 1935 Moscow (January 2019)...
I'm swamped with other projects and have no time for a post requiring any significant amount of work.
...so let's have some more photos 'Spotted on eBay'.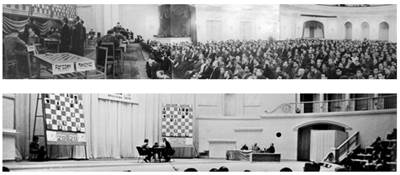 Top: 12th Soviet Chess Championship, Moscow, IX-X, 1940. For another photo on this blog from the same source, see The 12th Soviet Championship (September 2017)
Bottom: Final candidates match, Moscow, IX-XI, 1974, 1973-75 Candidates Matches (m-w.com)
The top photo 'consists of four photos glued together'. The bottom photo is a single panoramic view.